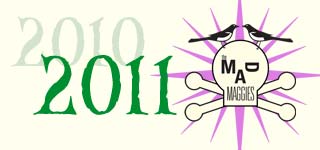 Goodbye 2010, Hello 2011
Thank you all for coming to shows, listening and enjoying our music for another year and thus inspiring us to keep going with our musical madness! Wouldn't be the same without you 😉
As a token of our appreciation and to help you celebrate the new year here is a free mp3 of our rendition of "Vitamin A".
This strong soul-filled tune was written by Baba Brooks, the famous Jamaican trumpeter who was at the center of the ska scene in the late 50s and early 60s. The tune suits us very well, though, okay, they didn't use tuba and accordion extensively in early ska. I'm thinking they should have, could have but maybe that's why 50 years later we did. The lovely low instrument on the outro is bass clarinet played by our saxman, Adrian Gormley.
Overall 2010 was busy. We kept the Mad Ms ball rolling by recording and releasing our fourth CD, "Flashbacks — the Mad Maggies play vintage hits". The response has been great — partly nostalgic and partly "whoa, you guys sure do play a lot of different styles." I have to admit I love the fact that we play whatever genre rocks our boat.
I had the pleasure of being included in the 2011 "Accordion Babes CD & Pin-Up Calendar" as Ms. July. Such a fun, female powered endeavor. And proof that I will do anything for this band even if that means stripping down to my skivvies.
Gigs were very good. More of the decent pay, responsive crowd kind. Yes! Swag & CD sales again were respectable. Interestingly online digital sales far out number physical CD sales. Wave of the future?
According to plan, we have started working on our next CD which is the follow up to "Skull & Magpies". More rogues, scallywags, villains and heroes on the bounding main.
And we're lining up a nice calendar of shows at venues and festivals near you!
Finally, a big welcome to our new bassist Tim Sarter and our new drummer, Ian Luke. Two wild and crazy fellas who fit right into our mad mix of an ensemble.
May the new year bring you crazy joy and plenty of live music,
Mags