Johny Blood: tuba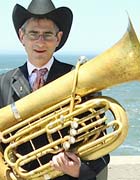 childhood memory: my mother holding me upside down by my heels, shaking out a butterscotch candy that I was choking on
first musical memory: hearing "Downtown" by Petula Clark on the car radio
first gig: I played "Louie, Louie" on the tuba, the singer tossed a beer bottle
worst gig: The singer got in a fist-fight, the club shut off the power
biggest musical challenge: Not over-blowing
other instruments played/attempted: alto horn, euphonium, flugelhorn, electric bass, soprano sax, accordion, ukulele
other bands, ensembles: Blood & Stone (electric tuba duo). A long time ago: Magnetic Fields

When I play music I... like to have a drink on hand
After a good gig I... like to go to an after-hours polka club
So far life... so sweet, so painful, so short
Don't make me... complete sentences
To relax I... look at stuff
important book(s): Texts for Nothing - Samuel Beckett
favorite movie(s): The Palm Beach Story
soundtrack(s): In high school: The Beatles, Eno. In college: Captain Beefheart, The Velvet Underground. In my 20s: James Brown, Phil Spector, Lamonte Young. In my 30s: Billie Holiday, Lester Young. Now: klezmer, Balkan brass band. Anytime, always: "Please Mr. Postman" by the Marvelettes
more: MySpace
Ray Fernandez: tenor sax, baritone sax, soprano sax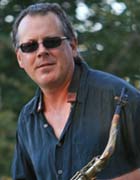 childhood memory:I remember (do-do), they had a swimming pool
first musical memory: Miriam Makeba on the record player
first gig: Playing in a Martin Mull and His Fabulous Furniture cover band at SDSU
worst gig: Hired as a 50's greaser band for a High School Prom (Rufus & the Fireflies) The students were confused and un-happy
biggest musical challenge: Tell a story when improvising
other instruments played/attempted: Soprano, Clarinet, Marimba, Alto, Jaw Harp
other bands, ensembles: Sonic Strut, Kings Hat, Overcommitments
When I play music I... Sweat when appropriate
After a good gig I... Pack it up and have a beer
So far life...I'll tell you later
Don't make me... Just don't!
To relax I... Lie in my Hammock
influences/inspirations: Gene Ammons, B, Mel Martin, Jack Reacher
important book(s): Zorba the Greek
favorite movie(s): Godfather
soundtrack(s): Get Shorty

Ian Luke: drumbs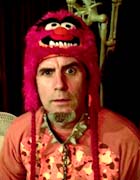 childhood memory: At the age of four, being dragged around the garden of Versaille in France by a child leash. I still managed to get away and was found 30 minutes later sleeping in a flower patch.
first musical memory: Watching my dad goof around on the piano
first gig: I was 17, the band was Night Prowler. We played in front of 100+ psychiatric patients, some wearing helmuts. Everything was fine until we played the Beatles' "Day Tripper".
worst gig: See above.
biggest musical challenge: finding the venue I'm playing at.
other instruments played/attempted: You name it, I've attempted it. As far as playing goes, I'm still working on it
other bands, ensembles: My project called Chocolate Starfish.

When I play music I... think of flame-engulfed Oomp Loompas rolling down a hillside singing sea shanties!
After a good gig I... try to figure out where I am.
So far life...has continued to completely confuse yet entertain me.
Don't make me... explain myself
To relax I... try not to answer questions
influences/inspirations: Anything and everything bad
important book(s): The Exorcist Invisible Monster Shantaram
favorite movie(s): Blue Velvet, House of 1000 Corpses, Tropic Thunder
soundtrack(s): 2001 Space Odyssey, Phantom of Paradise

Maggie Martin: vocals, accordion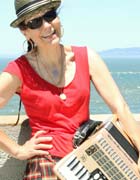 childhood memory: figuring out how to undo my diaper pins
first musical memory: listening to symphonic music playing on the radio on the nightstand as I fell asleep
first gig: around 14, playing guitar in our all girl rock band at a small hall in San Francisco
worst gig: any gig where I have to change into my stage clothes in a Porta Potty
biggest musical challenge: describing what kind of music I write
other instruments played/attempted: keyboards, harpsichord, congas, tin whistle, ukulele, scrub board, guitar
other bands, ensembles: assorted a cappella ensembles, Mixed Company, Polkacide

When I play music I... am thoroughly happy
After a good gig I... like to drink a pint and chat with the people who came to the show
So far life... has gotten better and better
Don't make me... sit still
To relax I... dance
influences/inspirations: nature, astronomy, opera, all bagpipe music, Elmer Bernstein, Machaut, Mahler, Maria Callas, Lefty Frizzell, Lotta Lenya
important book(s): dictionaries
favorite movie(s): The Day the Earth Stood Still; McCabe and Mrs. Miller; the "Dollars" trilogy; Once Upon a Time in the West; Raging Bull; Blade Runner; 3:10 to Yuma; anything by Gilliam, Herzog, Jarmusch, Kusturica, Errol Morris, Saura, Sayles, Wenders
soundtrack(s): The Great Escape - Elmer Bernstein, Slaughterhouse Five - Wendy Carlos, Blade Runner - Vangelis, Birdy - Peter Gabriel, Paris, Texas - Ry Cooder
Tim Sarter: electric and upright bass guitar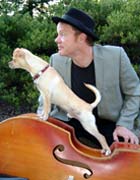 childhood memory: Falling down the stairs through the gate, my recurring nightmare of having to bathe in a stairwell full of biting fish
first musical memory: family jamborees where we played a lot of Woody Guthrie's music
first gig: some party somewhere
worst gig: getting driven in on four wheel drive vehicles to play during lunch for a trail ride. Things took a turn for the worse when one of the guys leading the trail ride proceeded to shoot himself in the foot while getting off of his horse.
biggest musical challenge: learning entire scores for plays
other instruments played/attempted: flute, piccolo, mandolin, guitar
other bands, ensembles: Miss Kitty and the Big Dogs, The Shannon Rider Band, The Hank Band, Patsy and the Bobcats, Hand Me Down, B.C. Fitzpatrick, The Burnside Scramblers, Heritage Music Theatre. Probably some I'm forgetting

When I play music I... feel elated
After a good gig I... go home
So far life... is very interesting
Don't make me... tell you how to do your job!
To relax I... do long distance trail running
influences/inspirations: my older brothers - they got me started playing music
important book(s): East of Eden, The Secret History, The Story of Forgetting
favorite movie(s): hmmm... not sure. I don't see a lot of movies. I'm too busy playing
soundtrack(s): that funny ringing in my ears that never seems to go away.
GDub: guitars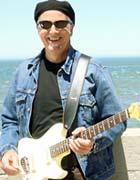 childhood memory: age 3, found a penny and set off on a trip to the store by myself... unfortunately I got caught before I could spend my booty
first musical memory: I think it was something by Boots Randolph
first gig: a friend's keg party
worst gig: same keg party (I sucked)
biggest musical challenge: juggling 3 shaker eggs in 13/8 for close to 4 minutes
other instruments played/attempted: ukulele, banjo, congas and bongos and currently, octave mandolin
other bands, ensembles, doings: GWimages (photo blog), Throws Bros (juggling), Live On Stage (acting), Mixed Company

When I play music I... try to keep my hands on my instrument.
After a good gig I... immediately remove my sweaty shirt.
So far life... has been one learning curve after the next.
Don't make me... eat French andouillette.
To relax I... try to unravel the mechanics of unstructured time.
influences/inspirations: John Lennon, Joe Strummer, Shane MacGowan
important book(s): The Birth of Tragedy; The Brothers Karamazov; Gravity's Rainbow
favorite movie(s): Harakiri; Network; Raging Bull; Wings of Desire
soundtrack(s): The Birds; Paris, Texas; Sid and Nancy; Until the End of the World
ERSTWHILE MAGGIES -- past players at large
©2004-2014 Media Rare / Squeezin' Diva Music • BMI affiliated
• 707 776-6921 • Montreal, Quebec & Sonoma County, California