A live and wild recording. One of those special moments wherein musicians and crowd shared a divinely, beer-sotted oneness. The energy was a spectacular shade of green.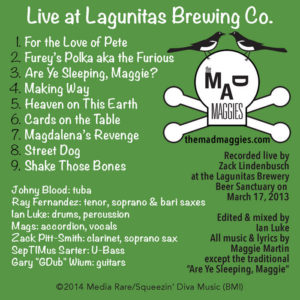 Recorded live by Zack Lindenbusch at the Lagunitas Brewing Co. on March 17, 2013.
Edited and mixed by Ian Luke.
Cover design and layout Media Rare.
TRACK NOTES
For the Love of Pete — Sally Duggan sets to sea to rescue Captain Pete
Furey's Polka aka the Furious — polka it is
Making Way — ska, nice and peppy
Heaven on This Earth — "supposin' there's no home on high"
Cards on the Table — cumbiaesque
Magdalena's Revenge — a barn burner
Street Dog — a dash of Louisiana
Shake Those Bones — swing, check out the outstanding drum solo
VIDEO
We used our recordings of Heaven on This Earth and Street Dog from this show for the videos we created in 2013.