Our third album inspired by the high seas and piratical riff-raff with 12 salty-flavoured tunes.
"It's a hit!" — N. Kotsaris.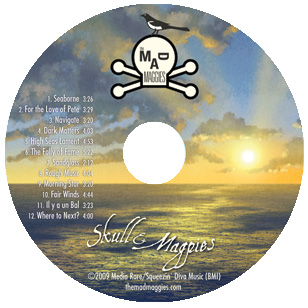 Recorded by Wally Sound, Oakland, California. Analog, 2 inch tape, 16 track.
Mastered by J. J Golden, Ventura, California.
Cover and disc illustrations by illustrator and fine artist, Dale Horstman.
TRACK NOTES
Seaborne — open sea ska
For the Love of Pete — a sea-going adventure, celtic, pop, swing hybrid
Navigate — to see where you are take a look at the stars
Dark Matters — ska/swing
High Seas Lament — slow and sad, the ocean's edge stretches wide ahead
The Folly of Fame — a Black Sea rogue
Sandglass — atmospheric, times past
Rough Music — ballad of a roving man and a discontented crew*
Morning Star — mad maggiefied traditional reel
Fair Winds — love
Il y a un Bal — cajunesque
Where to Next? — ska, reminiscent of bluebeat**
Our star whistle player, Rhian describes our sound on this album as "the Specials duking it out with the Chieftains".
JJ Golden did his sound mastering magic. Fine artist and illustrator, Dale Horstman created spectacular images for the cover and disc. The very talented Jonathan Segel (Camper Van Beethoven, Chaos Butterfly) helped with the mix down at Wally's. This is our third CD recorded, engineered and mixed at Wally Sound because, besides being a pleasure to work with, he gives excellent sound. We went analog again — 2 inch tape to 1/4 inch to digital master.
COOL NOTES
*"Rough Music" — when sailors were unhappy with they way they were being treated they would make noise at nighttime on the lower decks by rolling cannonballs (shot), banging iron objects together etc. These sounds are called "rough music" and were a warning to the captain and officers that the sailors' discontent could turn to mutiny.
**"Where to Next" –This tune is reminiscent of Blue Beat ska. Blue Beat Records was a label in Jamaica in the 60s which featured R&B and ska. The name became associated with a style of ska.
——
HONORED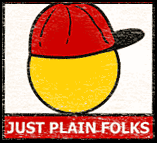 The Just Plain Folks Awards 2017 honored Skull & Magpies with a nomination.
Cajun Song: Il y a un Bal – Skull & Magpies
In all, we have received 7 nominations spanning 4 albums from JPF. Our tunes made it through 18 months of screening by dozens of judges culling 17,400 albums and 240,000 songs from all over the world. Wow!