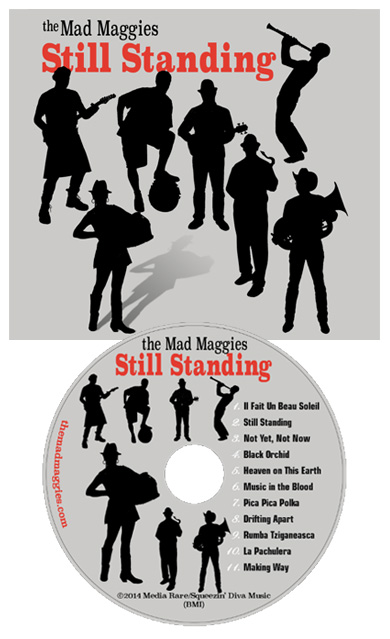 2014 is our 10th anniversary. In honor of our resilience and, especially for your listening enjoyment, we present our latest album of "hard to describe, easy to love" tunes — "Still Standing".
Six tunes are new and original and, as always, all over the musical map — ska-inspired, rap inspired, balkan/jazz/rock/folk inspired. Four tunes are favorites that we felt deserved to be re-recorded as they have morphed considerably from when we first recorded them. And we couldn't resist including the Rumba Tziganeasca which we love to play live but had never recorded. All in all, it is another mad, musical voyage.
Listen to the tunes right here. We've cued up "Not yet, Not Now".
Recorded, mixed and mastered by Wally Sound, Oakland, California. Thank you, Wally!
Cover design and layout by Media Rare.
TRACK NOTES
Il Fait un Beau Soleil — an upbeat ska instrumental. "It's a sunny day."
Still Standing — an R&B groove with something to say about resilience
Not Yet, Not Now — ska, defiant and danceable
Black Orchid — a Latin/ eastern European inspired instrumental
Heaven on This Earth — ska with a secular sentiment. "I want a band of angels in my backyard."
Music in the Blood — a quirky sing-along in honor of large brass, with hints of polka. Go, Johny!
Pica Pica Polka — southwest inspired polka with a long tail.
Drifting Apart — a love song of sorts, nostalgic and intense
Rumba Tziganeasca — traditional Romanian with an infectious beat
La Pachulera — an instrumental "…like klezmer musicians stranded at a well lubricated Tijuana wedding party."
Making Way — ska instrumental propelling us forward.
All music & lyrics by Maggie Martin except the traditional "Rumba Tziganeasca"
©2014 Media Rare / Squeezin' Diva Music (BMI)
HONORED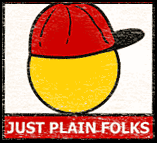 The Just Plain Folks Awards 2017 honored "Still Standing with two nominations!
Jewish/Klezmer
Rumba Tziganeasca – Still Standing
Polka Song
Pica Pica Polka – Still Standing
Our tunes made it through 18 months of screening by dozens of judges culling 17,400 albums and 240,000 songs from all over the world. Wow!
In all, we have received 7 nominations from JPF spanning 4 albums.