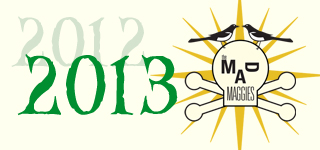 Goodbye 2012, Hello 2013
2012: We released our 6th album "Up North, Out West" — a self-bootlegged field recording of our various out of state gigs. We toured the Pacific Northwest in March, hit Nebraska in June, and St. Paul in September. We played festivals, pubs, saloons, private parties, farmer's markets, a brewery, a winery and more racking up the most gigs we've played in a year so far. Our songs were played on many independent radio stations as well as online shows. The European folk portal "Folkworld" gave us very nice reviews (one in English, one auf Deutsch).
2013: We will be adding new tunes to our repertoire in preparation for our next album. A video is in the works. We plan on playing more fabulous shows far and wide. (To keep track of what we are up to sign up for our monthly email newsletter and/or check our calendar page.)
I know I say this every year but that's because it is so true. We wouldn't exist as a band without your coming to our live shows, listening to our music and sharing it with friends, supporting us by buying merch and telling others about us. You make it happen. Thank you!
Wishing you all the very best in this new year,
Mags