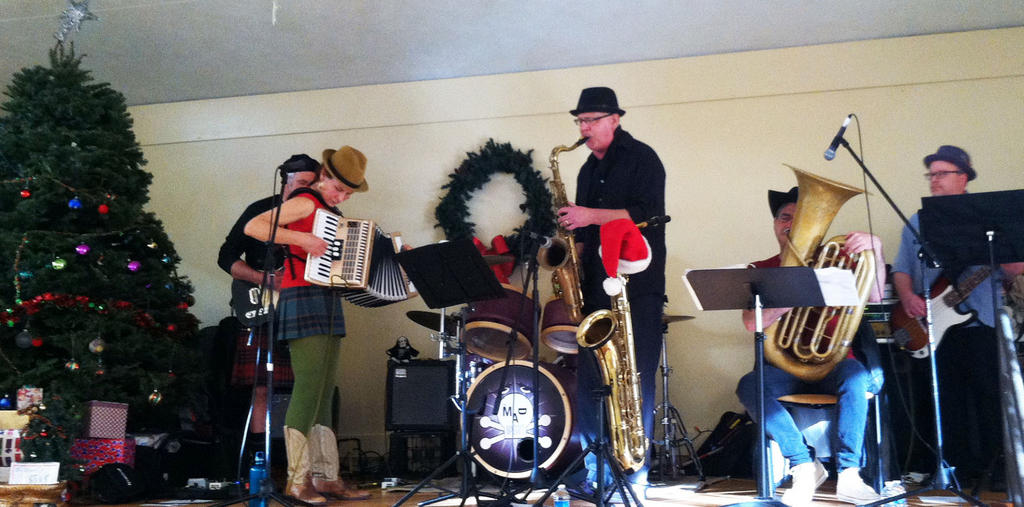 photo: Carolyn Gauthier
We enjoyed playing this holiday gig on December 9, 2012 very much. It is all the sweeter knowing that the feeling was mutual. 😉
This Bread & Roses blog post, which re-caps their holiday shows, mentions us.
And we got a nice write-up in the Openhouse newsletter which follows:
The Mad Maggies at Openhouse
Date: 12/9/12
Host: Barb Withers
Essence Story by Barb Withers:
The Mad Maggies like to call themselves "musicians without borders." With such instruments as a tuba, sax, and accordion, along with lead and bass guitar and drums, and dressed in kilts, cowboy boots, and Hawaiian shirts, their music is a jambalaya of music.
Dressed in cowboy boots, green tights, a short plaid skirt, a long single braid trailing down her back, topped off with a brown bowler, Maggie sang a Caribbean song about Sally Duggan. Their next song began with the tuba leading and the clang of a cow bell, then Maggie joined in on her accordion, and it sounded like a cross between an Israeli and Italian folk song.
By this time, the audience knew this show was going to be different. The Mad Maggies were full of energy, stomping and singing, and the audience clapped along, wearing broad smiles. Some of the attendees at the holiday gathering at Openhouse who were outside drifted in to listen to the music and laughed with delight at the crazy and delightful tunes.
Maggie introduced a song "Magdalena's Revenge" noting that this song usually knocks the dust off the ceiling. Some of the men and women standing in the back couldn't help but dance to this fiery tune! The band then segued into some holiday tunes, of course with a Mad Maggie twist, with Maggie playing the ukulele on "Santa Baby" and Ray playing a beautiful solo on the sax.
It was a beautiful, sunny December afternoon as the Mad Maggies closed their show with a brisk tune bouncing along, with the line, "Shake those bones. Life's a mystery; it's anyone's guess." With the eclectic band jamming, the electric guitar and sax soaring, and the tuba and accordion punctuating the song, followed by a drum solo, it felt like a whoosh of air swept into the room and the audience responded with rousing applause.