Hello, Magpies!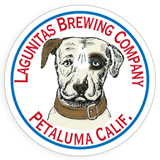 It has been a wild few months full of composing new tunes, arranging them, practicing, plotting and planning. Now, we're ready to come play music for you all.
Here's where, when and what:
A Kick-off, Think Pink & a Grand Finale
We are super pleased to be heading back to the Cotati Accordion Festival. This year's theme is "Western" so lots of fun, country inspired bands and many outstanding artists from around the world. Honestly, if you have never been, you owe it to yourself to catch this unique, all ages, affordable party in a park.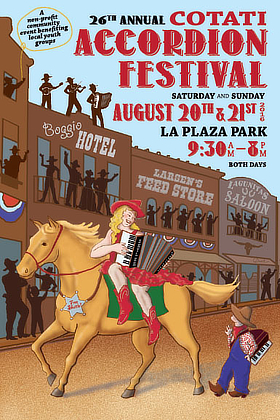 • Friday, August 19, 4:20pm
We perform a festival "kick-off" show at Lagunitas Brewing Company's Beer Sanctuary in Petaluma. We promote the festival and will have handbills and and posters. This is a perfect show for our Sonoma County beer-loving friends. A great way to warm up for the weekend of accordion music.
• Saturday, August 20, 4:30pm
This is our chance to rock the crowd at Cotati. Come shake your booties. And wear a touch of pink!
Why pink?
Every year in August in Sonoma County, the fabulous pink "naked ladies" bloom just in time for the festival there is pink everywhere on hills and roadsides.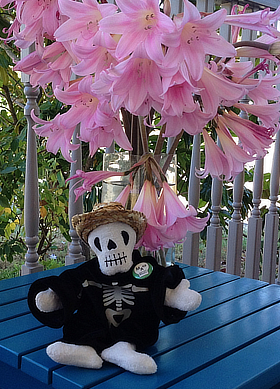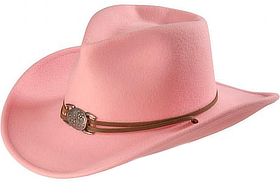 And, I couldn't resist a lovely pink cowboy hat to wear for our CAF show, you know, western theme and all. And, I've asked my fellow musicians to wear some pink on stage. Frankly, I am a little worried about how they may interpret that request. Ya never know with these guys …
I'd love to see lots of you "in the pink", too, celebrating accordions, music and summer in SoCo.
• Sunday, August 21 at 5:30pm
The festival asked if I would direct the grand finale on Sunday, again. Of course I said yes. We'll be the backing band for a fantastic group of international and national accordion stars. I worked closely with the artists to come up with a lively show — all-star squeeze fun, for sure!
ARMANDO'S in MARTINEZ
• Saturday, August 27 at 9:00pm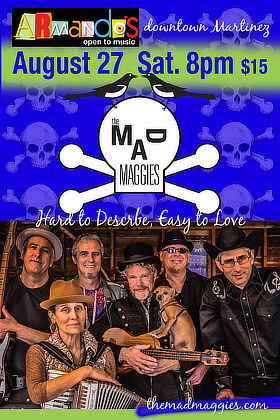 Next up is a gig at one of the few true blue music clubs in the Bay Area: Armando's. It is a pleasure to play a club where live music is the focus. This is a comfortable, friendly venue definitely worth checking out. It's an easy ride for you East Bayers.
PORT TOWNSEND DEEP SQUEEZE
For quite some time, I have been cogitating about a series of shows showcasing how versatile accordions are in modern music — not fringe or obscure, but also not staid and nostalgic. I grabbed the domain name deepsqueeze.org to be ready when I could create an opportunity to realise this dream.
Last December, I approached Paul Rogers (TDA) who lives near Port Townsend and asked him if he'd like to co-produce an accordion festival in that lovely town on the Olympic Peninsula. We had played there back in 2012 and we loved the audience and the area. And the folks loved us. I have been trying to get us back there ever since.
Paul has been on the vanguard of experimenting with effects boxes for accordions in rock music so he understands how the future of accordions depends on continuing to explore new
techniques, styles and arrangements and he was up to the challenge of creating a new festival.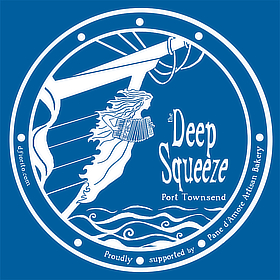 So we set to work and are happy to present the first ever Port Townsend "Deep Squeeze" — a three day celebration of accordion music and a fundraiser for the Port Townsend food bank. We've lined up excellent musicians, including yours madly, who play an array of styles. We have fabulous sponsors and advertisers.
There will be a raffle for a Castle accordion donated by Petosa Accordions of Seattle and two days of silent auctions for many excellent items. All this in a fantastic, picturesque, music-loving location.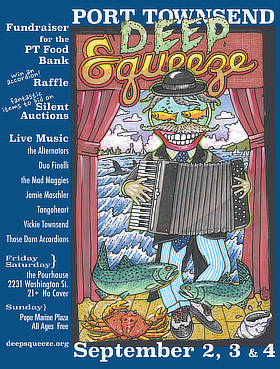 Believe me, creating a festival out of thin air is lots of work but oh so exciting!
We play all three days.
Check out the lineup & times.
• Friday, September 2
• Saturday, September 3
• Sunday, September 4
See ya soon!
yours in a mad, mad world,
Mags