For our new shirt, Montreal fine artist and animator, Daniel Fiorito drew a whimsical and very detailed "calaca". Daniel works in several media including oil, charcoal, linograph, pen and ink. He is wry, understated and exceptionally talented. Check out his work at dfiorito.com and his bird characters, "Les Piou Pious" at birddayarts.com.
We have men's in a basic t-shirt in black and a light, army green color called "Lieutenant". Sizes: M, L, XL, XXL
We have women's in "Asphalt" grey (S, M, L, XL) and black (M, L XL). Both styles are feminine with scoop necks and short sleeves. The black is a loose fit, the grey is form-fitting.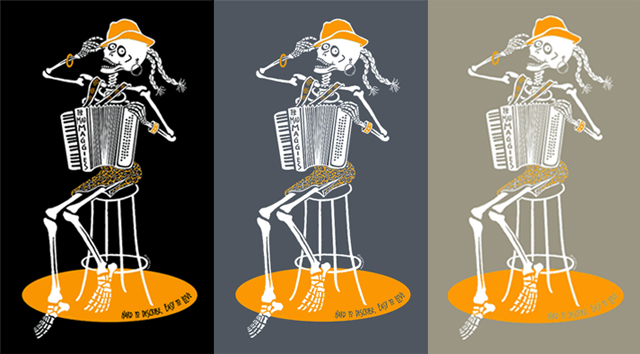 All shirts are silk-screened on American Apparel t-shirts (made in America!) by Lucky Mule.
One of the best ways to support us is by buying our merchandise. So pick up one or two shirts. They make great, quality gifts.
We have our other fine designs available as well.
Available at our live shows for $20. Email orders are $25 plus shipping.
yours in a mad, mad world,
Mags
Thanks to GDub and B for modelling.