THE POLKA: "Music in the Blood"
Écrite pour le membre original et fidèle de Mad Ms, Johny Blood.
JB est avec nous depuis le tout premier. Il me semble que c'est une bonne idée d'écrire une chanson pour lui lors de son 10e anniversaire avec le groupe.
Il ne fallait pas être polka, mais les polkas et les tubas ont cette relation spécial.
Il s'agit d'une mélodie légère en C majeur avec une bonne utilisation des mineurs relatifs. Les paroles racontent l'histoire vraie de l'attraction précoce de JB pour le plus grand des instruments en cuivre. J'inclus des rimes internes, l'allitération et un amusement à propos des genres musicaux.
Dans les sections instrumentales, il existe trois figures de contrepoint qui traversent les lignes de chaque instrument en créant un effet canoniquet.
THE BEER PAIRING
Les paramètres sont «grands, audacieux et nobles» pour le tuba et le «bourbon baril vieilli» parce que JB, un bon garçon de l'Ohio du sud, favorise ces spiritueux distillés. Ces stouts impériaux correspondent:
• Péché Mortel Bourbon – Brasserie Dieu du Ciel
• Dragon's Milk – New Holland Brewing Co.
• Bourbon County Stout – Goose Island Brewery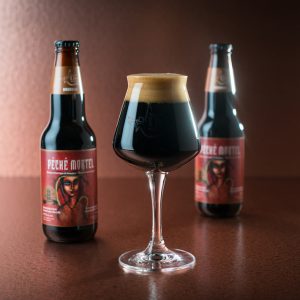 Chin Chin!
_____
"Music in the Blood" est également disponible à CDBaby et Spotify
(J'apprends le français, donc j'apprécie toutes les corrections!)