THE POLKA: "Furey's Polka aka the Furious"
Written in memory of Michael Furey, the first person to die at Burning Man.
I played with a punk polka band for 13 years called Polkacide. Furey was one of the regulars in that scene, a longtime friend of the band's and its self-declared manager.
In 1996, Polkacide was booked to play Burning Man for the second year in a row. P'cide trumpeter and general contractor, John Lieb designed a geodesic dome to be an art installation on the playa. A few weeks before, Gary and I joined Lieb, Furey and others in a lot across from the mobile home park in Petaluma, CA, where we living at the time (that's a story in itself), to help test assemble the dome. It was an all day affair. Other than a few minor hitches, the dome, constructed out of metal pipes, washers, nuts and bolts, worked perfectly.
Michael was curious about where we lived so, during a break, we walked over to our rented mobile home and had a beer on the patio. As we were walking over to our pad, he said to me something like, "Women like really crazy guys. That's who they fall for, right?" I answered that I couldn't say what all women go for. But some, yes, do like crazy. I, for one, though had had enough crazy.
That conversation stuck with me.
On the night before the festival began, Thursday August 29, Furey had been drinking heavily in nearby Gerlach and insisted on driving his motorcycle back to camp. A female friend tried to get him to put his bike in her truck and ride back with her but he wouldn't. Back on the playa, with no lights on, he started playing chicken with a truck.* The drivers of the truck couldn't get out of his way. Furey was essentially decapitated by the truck's side mirror.
When we arrived on the playa the following day, the shock was palpable everywhere. The dome was set up as a memorial space for him. All through the weekend friends and curious strangers would walk around the dome or sit inside quietly or leave writings, poems, libations. His death was senseless, tragic, deeply upsetting. It also changed the character of Burning Man thenceforth.
I wrote "Furey's Polka" shortly after the incident to try and process the tragedy. It's 4 section structure is somewhat traditional. I add a touch of "crazy" in the C section with whole tone scales and tri-tones. The ending is short and agressive. It remains one of our favourite polkas to play.
Also available on CDBaby or Spotify.
THE BEER PAIRING
The beer has to be something strong, even too strong, and definitely irreverent. These three award-winning brews will do nicely:
• Deliverance Ale – Lost Abbey
• Imperial Oatmeal Stout Aged in Bourbon Barrels – Fremont Brewing Co. limited release
• Arrogant Bastard Ale – Arrogant Brewing Co.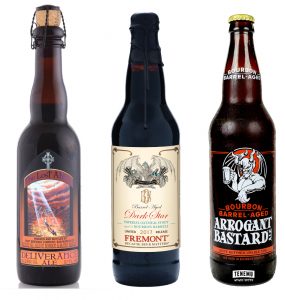 Prost!
Enjoy as much beer as you like but then please don't drive.
*Read an account of the night in Chapter Four of This is Burning Ma by Brian Doherty.