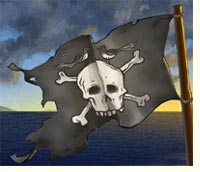 Thanks to everyone who made the "Skull & Magpies" party at the Accordion Apocalypse a success. It was a fine and rich musical feast. The night was clear and mild with a nearly full moon — perfect for a pirate's party.
Shannon O'Hare of "Never Was Haul" fame created a wonder filled, nautical atmosphere with block and tackle, ship lights, skeleton, cannons and more. The revelers were fantastically garbed in periwigs, frock coats, bodices, tricornes, bandanas and stripes and skulls everywhere you looked.
Stew Murrie digitally photographed. Erin Cameron videotaped 24p with her Panasonic DVX 100. Dan Brandon ran sound and multi-track recorded to Digital Performer.
We're eagerly awaiting the media captured so we can share it with everyone. We'll post it for all to enjoy as soon as possible.
Skyler and Melody were gracious hosts and their tail-wagging accomplices, Ukelele and Garlic were very accommodating of the human sea dogs.
Luz sparkled as our mistress of ceremonies. Her art and humour moved the night along perfectly.
Nada Lewis and Alex opened the show with a skillfully played set of toe-tapping, traditional deck dancing tunes.
Entr'actes included Amber Lee, who sang and played beautifully, Secret Circus, whose antics razzled and dazzled and Vaughn, who performed a delightful, magical, balloon trick.
Joan Wilson Rueter as The Gunner's Daughter dished up some fine, seafaring fare including a lively, "Drunken Sailor". Next up was the inimitable, sea-dwelling troglodyte jugband The Hobo Gobbelins. Surprise guests Human Wine followed.
We took the stage at around 11 PM and roused the rabble with tunes from "Skull & Magpies" and other hits from our repertoire. Pirates danced, wenches sang, ghosts shimmied on the rigging, bumboo flowed.
Erstwhile Mad Maggie, JX Lovejones graced us with his clarinet playing on a couple of tunes.
Ah yes, my hearts, it was a grand evening. Happy and content we sailed away in the wee hours swearing to carouse again when next we meet such a lively band of rovers.
—
My rococco dress was made by clothing designer, Connie Walkershaw who is also the fabulous saxaphonist with Go Van Gogh.
The vintage pirate movies projected were "The Black Pirate" (1926) starring Douglas Fairbanks, filmed in two strip technicolor and "Captain Kidd" (1945) starring Charles Laughton and Captain Kidd's Kids (1919) with Harold Lloyd.
Bumboo is a favorite pirate drink made of rum, water, sugar and nutmeg. Of course the recipe may vary.