ALIVE and SQUEEZING TOUR
We have been very busy here at Mad Maggies Central getting prepared for our "Alive and Squeezing" Tour with TDA (Those Darn Accordions).
"The Mad Maggies join forces with Those Darn Accordions for a white-hot accordion squeeze-down that takes the two high-energy San Francisco Bay Area bands to Northern California and Oregon this March."
The dates have filled in nicely.
March 14 – Friday – Palms Playhouse, Winters, Calif. – 8pm – $20
March 15 – Saturday – Rancho Nicasio, Nicasio, Calif. – 8pm – $15
March 18 – Tuesday – Johnny B's, Medford, Oregon – 9pm – $5
March 19 – Wednesday – Sam Bond's Garage, Eugene, Oregon – 9pm – $5
March 20 – Thursday – TBD
March 21 – Friday – Alberta Street Pub, Portland, Oregon – 8:30pm – $7
March 22 – Saturday – Astoria Event Center, Astoria, Oregon – 8:00pm – $10
Our fantastic "alive and squeezing" creature was drawn by Chiara Sarter, daughter of Mad Maggies' bassist Tim Sarter. She is an amazing artist!
We are thinking t-shirts. What do you think?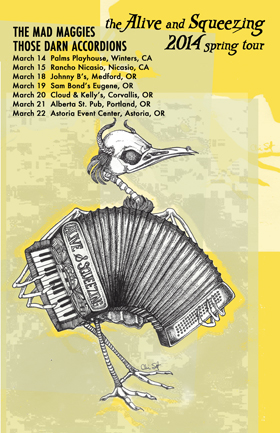 ST. PAT'S DAY at the RELLIK TAVERN
March 17 – Monday – St. Pat's Day – the Rellik Tavern, Benicia – 8:30pm – no cover
This is our first time playing this cool "martini bar – ultra lounge" in lovely downtown Benicia. The Rellik takes very good care of its clientele. There is never a cover charge.
Irish singer/songwriter Sin Silver opens the evening at 5pm. We take the stage at around 8:30pm and play until around 11pm. Good craic!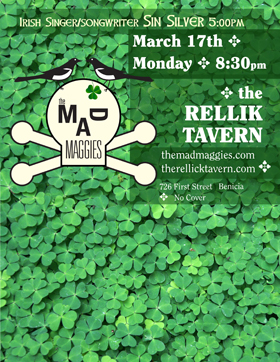 MORE LIVE MUSIC
We want to do more tours and that depends on our creating buzz and filling venues with happy music lovers. So we are doing plenty of guerrilla marketing. We could use your help. Simply encourage your friends, families, co-workers, colleagues, enemies, ex-lovers and complete strangers to come see live music being performed before their very eyes. There's nothing like it.
yours in a mad, mad world,
Mags