The Accordion Symposium started early at a local eatery and meeting place, Gatherings. Folks milled about, asked questions about accordions, shared their musical backgrounds. Workshops happened on and off until mid afternoon. Then there was a small pause which gave some of us the chance to sight-see and even take a horse drawn carriage ride through the village and back again. Then the evening concert began featuring all the accordionists who had come for the event.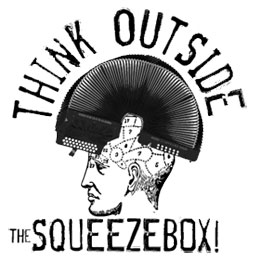 The very talented Corn Mo started us off. What a set of pipes! He absolutely wowed the crowd.
Renée de la Prade followed and was as energetic as always, then Paul Rogers rocked it with bassist Lewis Wallace and Mad Ms drummer Ian luke.
Smooth and elegant jazz master Ron Borelli was up next. I do believe he can play anything. Mad Ms saxophonist Adrian joined him for a tune which was a special treat.
Billy Wilson kicked up some Cajun/Zydeco energy, with Mad Ms GDub (guitar), Tim (bass) and Ian (drums) backing him up. Billy asked Renée to join him on a couple tunes as well. Irresistible dance party music.
Next up was Roxanne Oliva for some Klezmer music with Mad Ms tubist extraordinaire, Johny Blood and Adrian on sax. Rox is one of those players who makes it all look so effortless.
Then yours madly took the stage to close the evening. Cannot remember all the tunes we played but do remember we were privileged to have Roxanne join us on "Morning Star", our "Chanson de Jean" was a hit, "Shake Those Bones" blazed, "Magdalena's Revenge" shook the dust from the ceilings.
All together we accordionists dished up three hours of music straight and no one complained nor did the crowd thin. So cool!
I've got to mention that all through this full-day event volunteers worked tirelessly at the information and merch table. We are talking hours. Jim had assembled a super dedicated team.
—-
So once we packed up it was back down to Parlour City to catch the end of Paul Rogers' gig. We had a chance to hang with all the musicians, Jim and friends and Lori Young and husband Paul. Death met Cow – Lori's constant photographic companion.
Jim at Parlour City with tireless volunteers: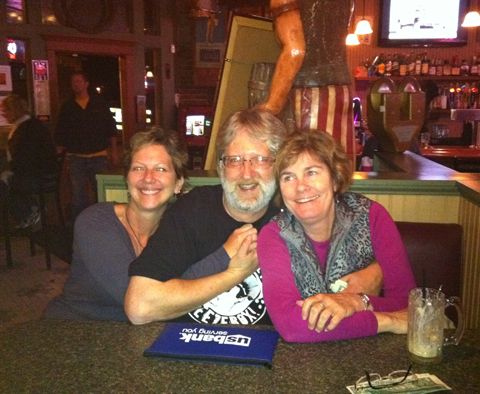 Some of the gang: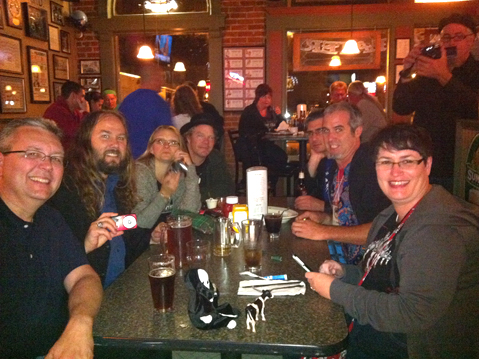 Death and Cow: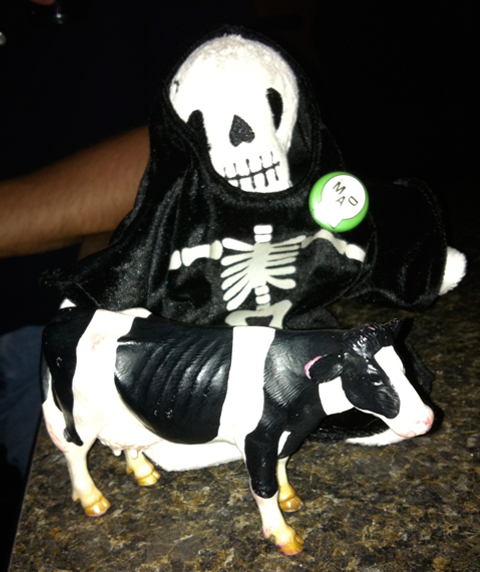 Pizza, more beer and back to home base for more hanging out.
One more day to go.
Our photo album (no FB needed)
GOOD PRESS: Eastern Iowa Life article