To a one the Mad Ms had a blast this past weekend in Cedar Rapids. Those Iowans are some friendly people!
The fun began Thursday night (9/22) when we took a red eye flight from SFO to arrive at CID around 8:30 Friday morning (9/23). Fellow accordionista and workshop presenter Roxanne Oliva and her husband Paul Oliva traveled with us.
Our host, Jim Jacobmeyer picked us up with friend and volunteer Robin. They hauled all nine of us and luggage and instruments back to his beautiful 1905 American Four Square 2 and 1/2 stories, 5 + bedrooms home near the "Czech Village". You Californians don't even want to know what a home like that sells for there. Seriously you don't.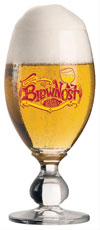 We thought we'd have some down time but found out that sound check was at 1pm so we figured out who would sleep where, ate a quick brunch and then off to the Vet's Memorial Stadium.
Our stage was on a mezzanine area above the ball field. All very nicely set up. Sound Concepts was in charge of sound, Bandi was our engineer with Vanessa and Horace assisting. They did a great job. There were sound speakers throughout the area, not just on the stage, which had to be a trick to get right.
A couple hours there warming up and then back to our home base to freshen up for our 6pm downbeat. At this point we are in a slight daze but nothing a good Czech beer won't straighten out.
Here's a photo of us in front of Jim's Four Square as we head off to play BrewNost 2011: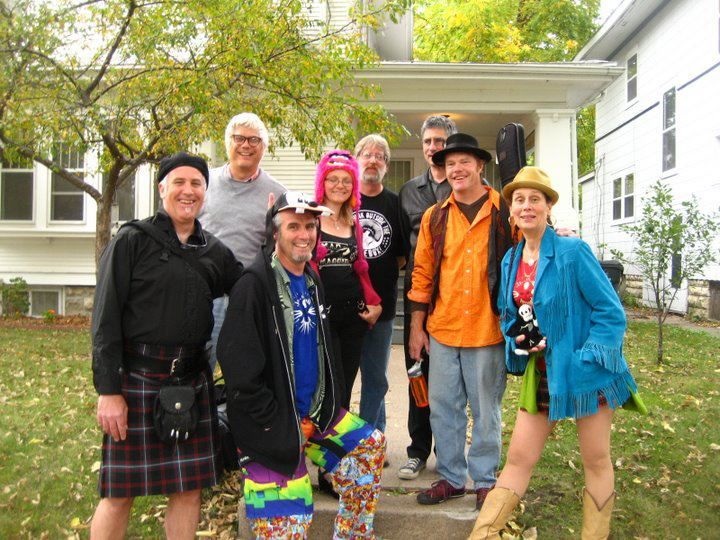 Roxanne was to play a few sets at a nearby bar/restaurant — Parlour City so she and Paul stayed behind.
When we arrived at the gate there was a very nice crowd gathering. Tables were full of beer-filled glasses. Lori Young of Hey Lori Productions had made it up from Illinois with her husband Paul.
During our first set folks were still getting beers and sampling the array of food. A section of keys on Adrian's sax fell apart so he had to jerry-rig them. 'Twas a bit nerve wracking to see him sitting on the back of the stage with tools in hand working on his horn mid-set. Then something happened to Rhian's clarinet. Oh my! But the show must go on. Sure enough Adrian & Rhian got their horns back in action.
By our second set more folks were seated in front checking us out and then by the third set there was dancing and general cavorting. Rhian spoke Czech to the audience, I sang a song in Slovak. We played our hits. They loved us. A great gig!
—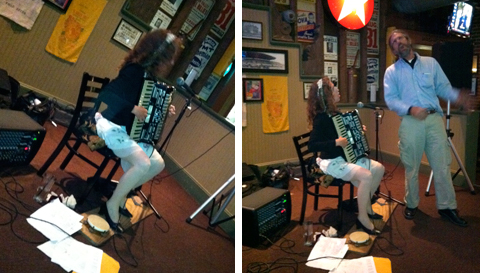 After the show we packed up and went to support Roxanne at Parlour City. Jim and another friendly volunteer, Laura drove us. (Turns out Laura speaks French so I had fun practicing chatting with her.)
Rox had been dishing up a solo show for a couple hours. We had our instruments with us so we joined her for a few tunes. Even Paul sang a tune. We played Klez, Irish whatever we could figure out that we could play together. Next thing I know Johnny Blood is up singing "Ma Vie en Rose" with Roxanne accompanying on accordion. A memorable performance!
Don't know if it was related but right about then one of the wait staff came over to mention how late it was, closing time was coming up … 😉
We rambunctious rogues moved our gathering back to Jim's home. Once again we were chauffeured.
I recall a stop for beer and whiskey. More music in the living room. I, in a stroke of unimpaired good judgement, retired to my chambers before the "blues song-writing circle" began.
A good first day.
PHOTOS:
A medley of photos on our website (no FB needed)