June 11
Saturday night
50 Mason Social House
San Francisco
No Cover!
The Mad Maggies and Go Van Gogh
Two Septets, Two rounds each
Come cheer us on. This is our third match with our pals, GVG. Training has been intense. Tensions are high. The competition will be fiercely fun.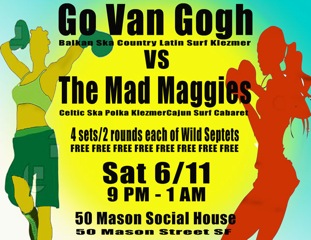 Musician Ed Ivey opened this hip beer and wine lounge in 2010 so it is fairly new and quickly gaining a very good rep. Check out the positive Yelp reviews to give you an idea of how cool 50 Mason Social House is.
Trivia
Ed and I played together years ago in Polkacide. In fact when I auditioned for that band it was at a place that Ed shared with trumpeter, John Lieb.