Happy Birthday, Ned!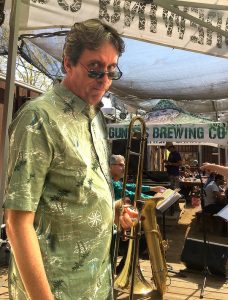 Our trombonist, Ned Stone akas Phil VanOuse joined us back in 2012. It was Johny Blood who brought him into our musical adventure. They are longtime friends and fellow brass players. Years back they performed together as a tuba duet, Blood and Stone.
Mr. Stone currently plays principal tuba with the Pittsburgh Opera and Pittsburgh Ballet Orchestras. He also teaches privately and at Slippery Rock University and Duquesne University.
He will be with us for our August shenanigans this year in California.
Tall Trouble: Ned Stone on the left, next to him is Johny Blood, then GDub and Ian Luke on the right.