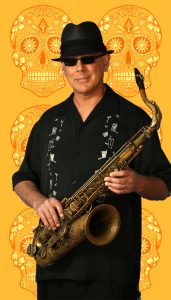 The Mad Maggies' sax man Ray has made it around the sun again. Yeah!
Back in April 2011, Ray saw us at the downtown San Rafael farmer's market. He contacted us saying if we ever needed another horn player to let him know. We didn't just then, but a year later our saxophonist Adrian Gormley decided to move to Germany for awhile so I reached out to Ray.
He signed on to this crazy project in May 2012, and played his first gig with us in a small, now defunct, club in Berkeley. And the rest is history.
You can enjoy the oh so cool sax stylings of Señor Fernandez on our three most recent albums. He plays tenor, alto and bari saxes.
His solo on "Not Yet, Not Now" is one of my favs: