Have a wonderful holiday!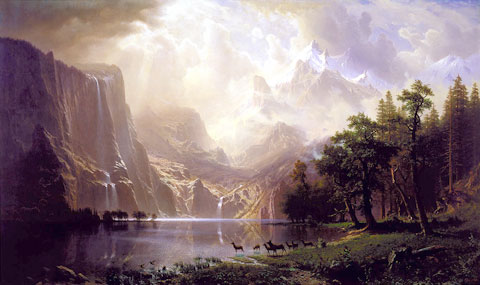 Albert Bierstadt, 1868, "Among the Sierra Nevada, California" is one of my favorite paintings. It is on view at The Smithsonian American Art Museum. Bierstadt often painted very large canvases. This one is 72 x 120 1/8 inches that's 6 feet by 10 feet!
I found this bit of trivia on the SAAM Eye Level blog:
"Peer closely at Albert Bierstadt's Among the Sierra Nevada, California—you need to be standing up close and personal, because you won't find it even in a large image—and you will see, in the lower left-hand corner of the painting, hovering in a stream under the shadow of a rock outcrop, a trout. Only one trout, but he took the time to paint it. Many early American paintings feature livestock (symbols of hearth and abundance): Bierstadt's little fish completes a scene of feeding ducks and elk."

That makes me smile.