Dia Daoibh, a Snaga Breaca! (Hello, Magpies)
Greetings on the festival day of Saint Patrick!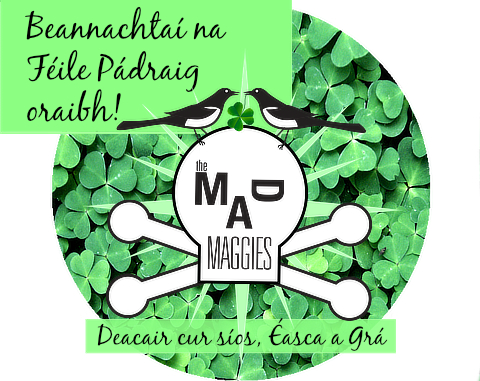 Music Sure to Please Hibernophiles
Though not a traditional band, in any sense of the word, we have added green sparkle to many a St. Patrick's Day celebration with emerald gems from our repertoire. Here's a few to to get your green going:
Lift a pint and toast your family and friends … in Irish!
Our Teach Tábhairne Mhaillí Ní Dhuibh (Molly Black's Tavern) is a drinking song that I wrote in Irish**. The chorus, "Sláinte agus táinte" is an Irish toast which means health and wealth. Pronunciation is roughly slawncha ahgus tawncha.
---
* Many of you know this but, for new magpies, our tune "Sleepy Maggie" underscored a scene on the NBC show, The Black Donnellys. Paul Haggis directed this series about Irish-American brothers growing up in Hell's Kitchen.
** If you are curious about this fascinating language, there are many resources online. If you want to hear what Irish sounds like, check out the Irish public service broadcaster TG4. If you want to try learning it, Duolingo now has an Irish course.