We've got several crazy good shows coming up. Hope we can entice you out to one or more!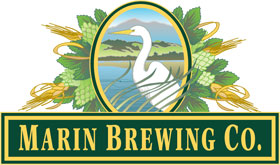 September 25 – Friday – 5-8pm – Marin Brewing Company, Larkspur Landing. Enjoy delicious, locally brewed, award-winning beer on a beer-garden patio. No Cover.
September 26 – Saturday 2-4PM – Taste of Petaluma, downtown Petaluma at the Helen Putnam Plaza. This is a foodie event that benefits the local performing arts theater, Cinnabar (which just so happens to be where GDub and I first met.) You can buy "dine-around" tickets to sample food from 60 eating establishments. There are several locations where musicans will be playing free to the public.
Then, later that same day —
September 26 – Saturday 8PM
Toad in the Hole – Oct-Toad-berfest, Santa Rosa. There will be a cask opening and contests. Wear your polka best and be ready to "Ein, zwei, g'suffa! Toad Pub is located in the historic 5th Street district of Santa Rosa and is a favorite local watering hole. Great beer and food. Only $3 cover.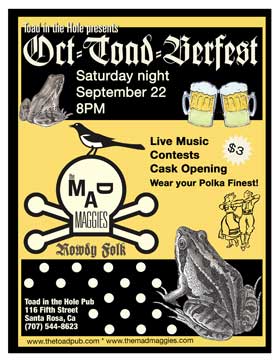 Babes, Bellows & Beer
Several of the Accordion Goddesses from the 2010 West Coast Accordion Babes Pin-up Calendar will be playing together at these upcoming revues. You have a chance to meet and hear these talented local musicians. I'll be there with some of the Mad Ms. We will have calendars on sale and are happy to autograph. Pick up one or more for gifts!
September 20 – Sunday afternoon – Lagunitas Brewing Company, Petaluma with Amber Lee, Renée de la Prade, Roxanne Oliva, Kitten on the Keys and Mags with several of the Mad Maggies. Enjoy the new Lagunitas "Beer Sanctuary" — a lovely outdoor beer garden.
September 22 – Tuesday night at Toad in the Hole, Santa Rosa with Amber Lee, Renée de la Prade, Roxanne Oliva, Salane Schultz and Mags with GDub. Tuesday nights are "Real Ale Nights" at the Toad.