Avast, me Hearties!
We are performing this Saturday, September 28 at
the Seafarer's Pirates & Pumpkins Festival
Rio Ramaza Event Park on the Sacramento River
10,000 Garden Highway
Gates open at 11
We play two sets 3:00-4:00pm and 4:30-5:30pm
All ages. $7 admission. Kids are free.
Food and drink and plenty of entertainment with Black Irish Band, John Blakemore, Skip Henderson, Louisiana Sue Ramon plus lots of shade, a misting system, outdoor dance floor, belly dancers and treasures, pumpkin decorating contest and lots more.
New for this year's fest is a pumpkin patch for the little ones to explore and a spooky cameo appearance by the Headless Horseman!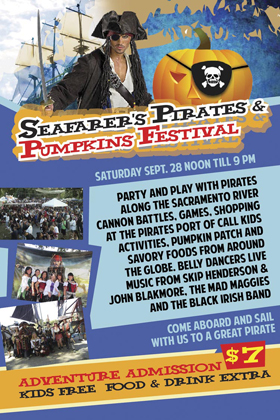 event #: 916-962-6415