Happy Fall, Magpies!
I love this time of year and so does our mascot Death. We're totally into that "Mexican thing" — El Dia de los Muertos (Day of the Dead), sugar skulls, Catrinas and Calacas. Throw in some celtic paganism, the wonder of leaves dropping, hints of winter coming and my birthday and it's straight up joy.
A CALACA on a TEE
Speaking of skeletons and such, our newest calaca-inspired t-shirt drawn by Montrealer Daniel Fiorito was a fantastic success on our summer tour. People really love this shirt.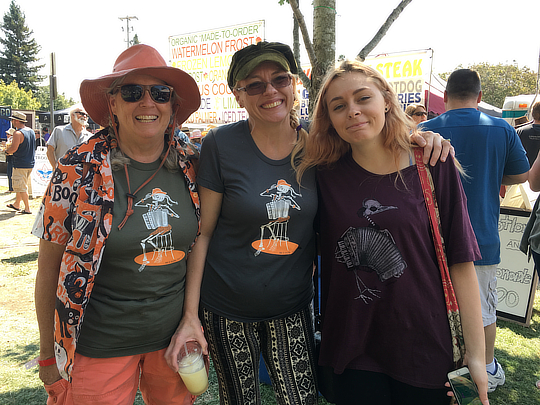 The design is perfect for Halloween or Day of the Dead celebrations.
Our merch outlet on BandCamp is the super easy way to shop our shirts and tunes. Or you can email me.
Your purchasing our t-shirts goes a long way to helping us fund our next recording project. So buy one or two. Give them as gifts.
Send us a photo of yourself in one of our tees! I'd love to add it our gallery of fans around the world sporting Mad Maggies shirts.
SUMMER TOUR RE-CAP
From Sonoma County to Contra Costa County in California to Jefferson County on the Olympic Peninsula in Washington, our summer tour was thoroughly enjoyable and successful.
Thanks to all our fans, friends, family who came to see us play, fed us, gaves us lodging, brought us goodies like home-baked pies and hand-knit socks, and who generally cheered us on. There was so much support and affection that I took to calling it the "love tour". The music biz can be wicked but when our peeps show up and show their love, it makes it all worthwhile.
2017
I'm ready to fill our calendar with opportunities to share our music this coming year. Know of an event we should play? Need a band for that special wedding or party? Talk to me.
Also in the works are new tunes for recording. Yep. More original "hard to describe, easy to love music" from yours madly.
¡Hasta la proxima!
yours in a mad, mad world,
Mags
Quick links to the "Calaca" shirts online:
Men's Classic crew.
Black. American Apparel. 100% soft cotton. Somewhat trim fit. Order up for relaxed fit.
Women's scooped neck.
"Asphalt" grey. American Apparel. 50/50 cotton/poly. Super soft. Form-fitting.