C'était triste d'entendre les nouvelles à propos du trépas deDan Hicks ce matin, le 6 fevrier, 2016.
J'ai grandi à San Francisco. J'étais adolescent sur le lâche et un musicien en herbe dans les années 1960. Une nuit, en 1965 (?), Mon ami, avec qui je me suis souvent "tripped", et je me suis dirigé pour un spectacle de musique à l'une des nombreuses petites salles de concert en SF.
Il n'y avait presque personne là-bas. Les lumières étaient faibles. Il y avait une balançoire suspendue sur de longues cordes au plafond sur lequel tout le monde pouvait se balancer. Une jeune femme dans une longue robe fluide de couleur claire se balançait d'avant en arrière. Il était magique, ou "trippy" pourrait être le meilleur mot. Sur scène avait plusieurs musiciens qui ressemblaient qu'ils avaient chronométrer-voyage d'une berline de la fin du 19ème siècle. Ils portaient des redingotes, de cordons, gilets, cheveux longs, moustaches et les pleins favoris. La musique faisait partie «old-timey», une partie de «rock» , certainement psychédélique. Nous étions captivées.
Le groupe était les Charlatans, premier groupe Dan Hicks, qui avait joué régulièrement à Virginia City, Nevada.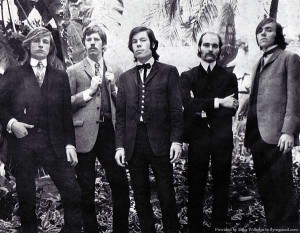 The Charlatans ont eu quelque chose de spécial — leur propre style et leur propre son. Je trouve que impressionnante et mémorable. À ce jour. Je ne l'ai jamais compris pourquoi le Grateful Dead avait le succès qui a échappé aux Charlatans. The Grateful Dead pratiqué près de là où je vivais. Ils ont toujours sonné tellement ordinaire pour moi.
Je vous remercie, M. Hicks pour votre vie de la musique et le merveilleux lot de chansons que vous avez laissés. Et je vous remercie de me enseigner la leçon que le talent, la créativité et l'originalité ne conduisent pas toujours à la réussite, la gloire et la fortune. Au moins, pas tout de suite ou en proportion directe.
Que vous avez aller à profiter du succès avec the Hot Licks et vos autres projets est un témoignage de votre talent musical et de la persistance.