March 6th – Saturday 8:30PM – Speisekammer Restaurant, Alameda.
A Side of Mad Maggies: GDub (guitars), Johny Blood (tuba), Adrian (alto sax, bass clarinet) and yours madly on accordion.
I've said it before 😉 The food is simply stellar at the Speisekammer Restaurant. And the selection of German beer is outstanding!
No Cover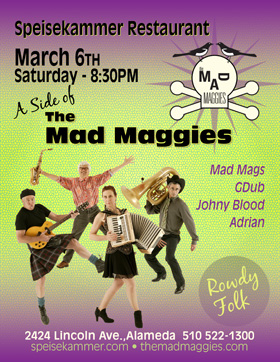 Get Your Green On!
March 12 – Friday night at the Abbey Tavern on Geary in San Francisco. We play 9:30PM onward. FREE!
You want a taste of Irish this is the joint!
March 13 – Saturday afternoon at the 159th Annual St. Patrick's Day Parade & Festival, San Francisco. FREE Festival in the Civic Center Plaza starts 11AM. We play 3-5PM.
We had a blast playing this last year. There was dancing in the streets — my favorite kind of happening.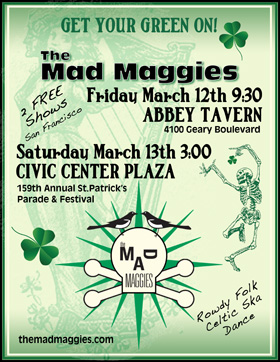 March 19 – Friday 9:30 at the Vibe, San Rafael with Miracle Mule. We play from 10:30 onward – $10.
This is our first time at this cool dance venue in Marin and it's gonna be fun.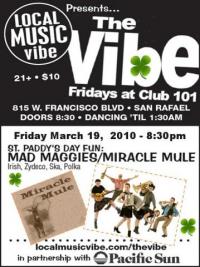 March 28 – Sunday – Marin Civic Center Farmer's Market Music in the morning amidst the fruits and veggies.