Goodbye 2009, Hello 2010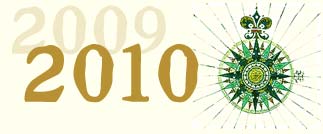 First things first. We're still here making music largely because you all come to shows, listen to our tunes, buy swag and generally cheer us on. Thank you!
Please enjoy this free mp3 of our hit "High Seas Lament" as we say good by to 2009.
'09 was good to us, geo-political turmoil and collapsing financial markets aside. We played the most gigs in a year so far. Several of our shows gave us the opportunity to rock very large crowds of revelers. We released our third CD, "Skull & Magpies" to good reviews and garnered radio airplay across the US and in Canada, Australia, UK and Europe. Our online and digital sales have been respectable. We're still receiving residuals for our 2007 TV show placement. Not bad for an oddball, rowdy folk, roots indie band.
We will begin 2010 in the recording studio working on the first of two CDs planned — a collection of choice vintage tunes. After that we'll continue our adventures on the high seas in a follow up CD to "Skull and Magpies". Look for release parties and related excitement. Of course we plan to play as many gigs as we can throughout the Bay Area. And we're working with a booker to set up mini tours outside of California to expand our circle of friends and fans. Plenty of crazy, good fun ahead.
Wishing you a new year filled with music and love,
Mags