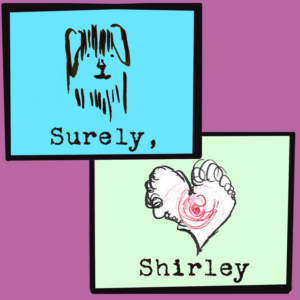 Happy Love Day!
Will Shirley ever notice Sam?
Will they fall in love?
To find out, watch our new release for the month of February
"Surely, Shirley" is an upbeat and sweet, catchy, love song.
The video features whimsical sketches by artist Mason Fernandez.
If you're like me and have some word nerd in you, you will enjoy the homonyms, internal rhymes and expressions.
And with the handy onscreen lyrics, you can sing along.
Enjoy "Surely, Shirley" on YouTube.
For a high quality audio file, listen on our BandCamp.
Mixed and Mastered by Wally Sound at the Wally Sound, Oakland, California
We're 18 years old today
The Mad Ms began this musical project on Valentine's Day 2004 by going into the Wally Sound studio in Oakland, California and recording the first tracks for our debut album "Crazed and Enthused".
Hundreds of shows, eight albums, several singles, TV music placements and the odd award later and we're "Still Standing" as GDub likes to say.
Thank you all for supporting us along the way. We love you.
Now that we are all grown up, we'll be bringing you even more musical fun.
Stay safe. Stay musical.
Mags