Brace yourselves for a wild night, me hearties!
The Accordion Apocalypse in San Francisco presents the Mad Maggies' CD RELEASE PARTY — a rousing night of musick, pyrates and high seas rabble celebrating our newest musical offering, "Skull & Magpies".
Special musical guests include Nada Lewis and Alex Bernstein – 4 centuries of ship deck dancing tunes, The Gunner's Daughter – sea chanties and pirate ballads, and Hobo Gobellins – circus cabaret with a salty twist
Lady Luz is Mistress of Ceremonies and Amber Lee and Secret Circus will be adding intermezzi
Shannon O' Hare: set designer
Dan Brandon: sound engineer and recording
Erin Cameron: videographer
Stew Murrie: photographer
Dale Horstman: CD illustrations and artwork
Look your pyrate or wench best!
Doors open 8pm
$10 donation ($15 if you look like a bloody, 21st century landlubber)
This just happens to be another Accordion Babes event. And the Mad Maggies 5 year anniversary!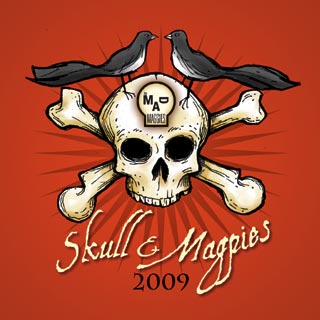 The Accordion Apocalypse Repair Shop
2626 Jennings St., Bayview
San Francisco • (415) 596-5952