As I continue working on writing our seafaring adventures on the "Lucky Bird" I'm tussling with the balance of fiction and fact. Frankly I favor historical accuracy. Truth is stranger than fiction which tends to spin the better yarn. The characters can be fictional but I want to see a real world through their eyes. So I'm pouring through a few more good books on those who plied the waves for profit around 1700.
Villains of All Nations – Atlantic Pirates in the Golden Age by Marcus Rediker 2004
The Pirate Primer – Mastering the Language of Swashbucklers and Rogers by George Choundas 2007. Choundas conflates historical sources with film and television depictions in this lovely looking and humorous book. There is a whole chapter devoted to "Arrgh". That makes me smile.
The Pirates Own Book Authentic – Narratives of the Most Celebrated Sea Robbers by the Marine Research Society. A Dover reprint of a 1924 publication.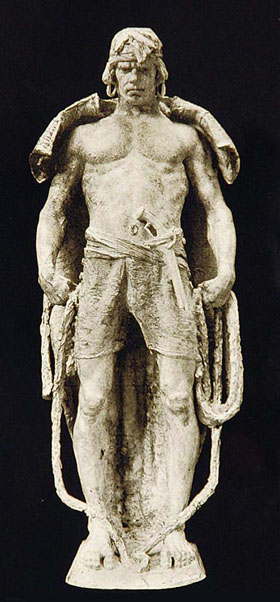 image: sculpture of sailor from the San Francisco 1915 Panama Exposition. Note his strong widely gripping toes.
—
I am convinced most people today could not survive the conditions these mariners endured.
And the gore in an 18th century sailors life makes our "violent" society look fairly typical. Plus ça change.
Humankind is surely crazed.