This Friday Night, March 19th we are playing The Vibe in San Rafael located at 815 W. Francisco Blvd.
Doors 8:30pm – Dancing starts at 9:30. $10 cover
Miracle Mule (cajun/zydeco, country) kicks off the evening. Our sets start around 10:30 10:15
This show is sponsored by: San Francisco's own Devotion Vodka and the Devotion girls will be on site pouring samples of their fine spirits.
We're talking a real dance floor, full bar, comfortable outdoor area and parking plus specialty vodka tasting!
So see you there in your dancing shoes and with a bit of green on ya!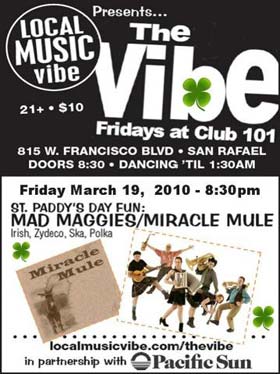 Shelley Champine creator of Marin Local Live has started producing live music dance shows on Fridays at this local venue. She describes it like so:
"The rest of the week it's Club 101 but on Friday it's The Vibe:
Live bands that make you wanna get up and move …"
— Shelley

SPECIAL NOTE: This also happens to be GDub's and my eleventh wedding anniversary. We've actually been together 19 years, since February 1991. We decided to tie the knot several years later. Good excuse for another celebration of love 😉