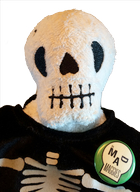 Old Fashioned Butterscotch Skull Lollipops
Prepare candy molds* by greasing with a very thin coating of butter.
1/2 Cups butter
2 Cups raw unrefined sugar (cassonade)
4 Tablespoons molasses
2 Tablespoons water
2 Tablespoons vinegar (I prefer Apple Cider vinegar)
Put all ingredients into a thick-bottomed saucepan. Carefully bring mixture to "hard crack" temperature — just under 300 degrees fahrenheit — carefully stirring and watching candy thermometer.
Pour carefully into molds. Add lollipop sticks as you go, twisting a quarter turn to seat the stick. Let cool thoroughly. Remove from molds and store wrapped in waxed paper to keep from sticking to each other.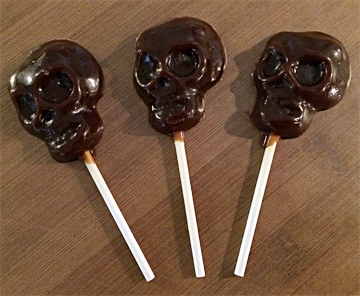 If you don't have molds you can drop the mixture onto a flat surface and let them cool making flat drops.
You will notice that I said carefully three times — the mixture is VERY hot and can be dangerous. Be careful.
This recipe inspired by the classic Joy of Cooking recipe.
*MexicanSugarSkull.com has lots of candy making supplies, as well as, lots of information about El Dia de Los Muertos.
Celebrate!