I am just about to place an order for t-shirts and I want to be sure I order enough for our upcoming shows. If you have been hankering for one of our Ts, now is a good time to let me know. Especially if you are either small or 3x and up.
We print on American Apparel cotton shirts because they are made in the USA and are super soft and durable. We sell them for $15 each.
Men's style is a short sleeve crew neck. Women's is a cap sleeve, scoop neck on one side, and a scooped boat neck on the other – allowing you to wear it in either direction.
Our current three designs are:
Alive & Squeezing — slate grey with the fabulous artwork by Chiara Sarter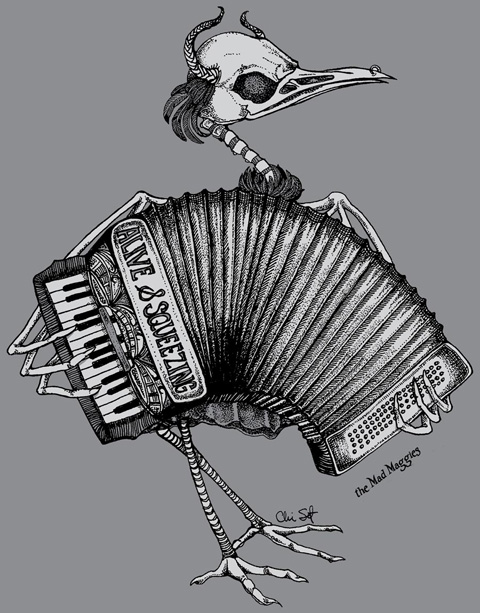 Our Classic Magpie — black shirt with off-white artwork created by Court Callahan at Lucky Mule
Skull & Magpies — olive green shirt with artwork by illustrator Dale Horstman
Drop me an email and tell me size and style. If you are coming to a show then you can pre-pay and I will set them aside for you to pick up.
We can also mail them for an additional $5 anywhere in the US. For Canada and elsewhere contact me for shipping costs.
Buying our shirts is a great way to support us AND get a cool shirt at the same time.