Hi Magpies,
Summer is here and we get to play music for you. Yay!
We've been busy learning new tunes and preparing for a recording session, some new videos and our live shows.
Can't wait to share it with you all.
Here's where we'll be:
DANCING IN THE STREETS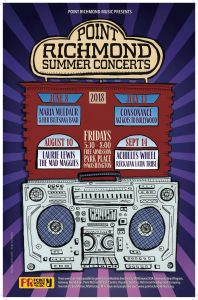 We are super pleased to have been selected to play the Point Richmond Summer Music Festival in August.
Voted "Best Outdoor Music Festival" by Best of the East Bay, this outdoor concert series is free and all-ages. Local restaurants offer a wide array of cuisine. The Arts of Point Richmond exhibts art. There's face painting for children, And, of course, there will be dancing in the street.
DATE: August 10th Friday
LOCATION: corner of Park Place & Washington Ave. downtown Point Richmond
TIME: 5:30 pm to 8:00 pm.
Laurie Lewis and the Right Hands (bluegrass) start at 5:45pm
We play at 6:45pm.
________
MAKE BEER NOT WAR
We are kicking off the Cotati Accordion Festival with a happy hour at the Lagunitas Beer Sanctuary.
We always have fun at Lagunitas. The music happens out of doors in a comfortable, kid and dog friendly space.
And did I mention the beer?
DATE: August 17th Friday
LOCATION: North McDowell
TIME: 4:20 pm to 7:20 pm
We play three sets.
________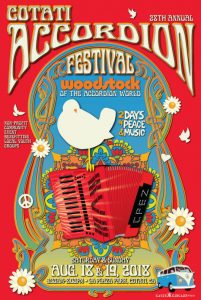 SQUEEZEBOX JOY
DATES:
August 18th – Saturday – 4:15pm
Cotati Accordion Festival, Cotati CA
August 19th – Sunday – 5:45pm
Cotati Accordion Festival Cotati, CA (as the Grand Finale back up band)
LOCATION: La Plaza Park, Cotati, CA