Come now, you able-bodied rogues, lusty lassies and scurvy sluggards,
February 26 – Saturday pm – Hotel Utah, San Francisco with Shark Alley Hobos and Brian Belknap.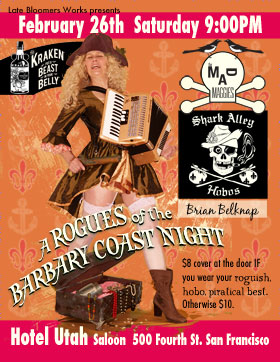 Be part of the fun and sport your finest piratical or hobo threads. You will save 2 bucks at the door.
We'll be playing some new tunes from our upcoming CD!
Our special sponsor for the evening is Kraken Black Spiced Rum.