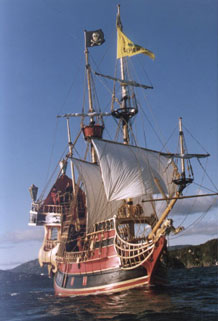 Inspiration
I was inspired to write the tunes for our upcoming CD by a young friend and fan who told me emphatically that the Mad Maggies play "pirate" music. He had given our music some serious attention by making his parents listen to "Magdalena's Revenge" over and over again on a long car trip. (His parents survived this audio assault)
I thought he had a point and frankly, I simply liked the idea. I began to spin up songs of renegade mariners and the high seas. 
I love the ocean. I've lived on boats including a Chinese junk and a couple of schooners.  I did some sailing a long time ago. My great, great, great grandfather was a mariner from the Isle of Man. I like swashbuckling tales. 
Reality Check
Affinity for the subject is good for inspiration but facts are even better so I dug into some non-fiction to learn more about those who plied the waves for profit. I can recommend these two books which do not "Disneyfy" the reality of sea-going workers. 
"Between the Devil and the Deep Blue Sea, Merchant Seamen, Pirates and the Anglo-American Maritime World, 1700-1750 by Marcus Rediker
The Sea Rover's Practice, Pirate, Tactics and Techniques, 1630-1730 by Benerson Little. 
Our Kind of People
Seafarers valued musical skills. Work aboard a ship was accompanied by rhythmic song. A good singer was a definite asset. Leisure time involved story-telling, singing and dancing.  Musicians were often treated better, up there with the surgeons and coopers.
Pirate crews were motley. Seafarers of many different nationalities and languages worked side by side.  There had to be plenty of cross-cultural musical influences.
Yep, our kind of people. 
I've got more to say about all this which I shall post soon.
Meanwhile come to one of our shows and you'll hear some of these new nautically inspired numbers 😉