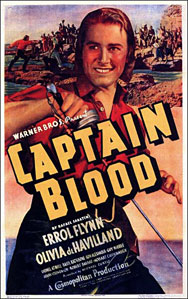 After her recent post on Robert Newton, Maggie asked me to find some more movie pirates. Of course, Errol Flynn is probably the most famous, in the role of my noted ancestor Peter Blood – Captain Blood. In addition to him and Johnny Depp there are such natural swashbucklers as:
Douglas Fairbanks The Black Pirate, 1926
Tyrone Power Black Sun, 1942
the deep-voiced, knavish Charles Laughton Captain Kidd 1945
and his 60s avatar Peter Ustinov, in the Disney movie from my youth Blackbeard's Ghost
Orson Welles played Long John Silver in his hand-trembling, Gallo wine-selling days (to wit, 1971)
Wallace Beery played the role in 1934, in a version of Treasure Island directed by The Wizard of Oz's Victor Fleming, and the Wizard himself
Frank Morgan, was in an early Technicolor (1936) called The Dancing Pirate
Burt Lancaster was in the pirate comedy Crimson Pirate in 1952
Anthony Quinn and James Coburn were in 1965's High Winds in Jamaica
Yul Brunner in The Buccaneer (1958)
Walter Matthau in Pirates (1986, directed by Roman Polanski).
Other movie pirates include:
Fred MacMurray Fair Wind to Java (1953)
Gene Kelly The Pirate (1948)
Bob Hope The Princess and the Pirate (1944)
Bugs Bunny Buccaneer Bunny (1948),
Kevin Kline The Pirates of Penzance 1983),
Geena Davis Cutthroat Island (1995)
and Jackie Chan 'A' gai waak (1983)