Rocker Oysterfeller's
Oyster & Fog Festival 2010
September 5th from 2:00 p.m. to 9:00 pm
We'll kick off the event with a 90 minute set starting at 2PM. Come early, stay late. This is a very hip, out of the way spot with excellent food and good drink, located in a beautiful old hotel with a lovely outside patio.
$10 per person.
Children six and under enter free.
A portion of these proceeds will benefit the Gulf Coast Fund for Community Renewal and Ecological Health.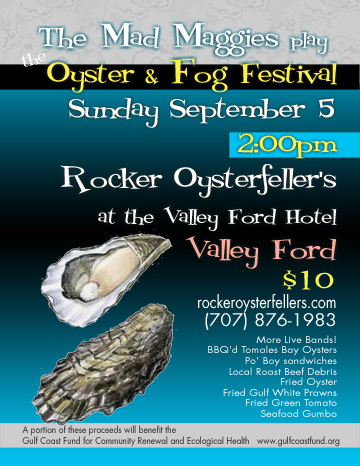 Live MUSIC: There will be several local bands performing live music on the rear patio after us — The Stratospheres, Mr. December and Way To Go Joe's. Music will begin promptly at 2:00 p.m.
DRINK: Lagunitas beers on draught, a variety of local reds, whites, roses, Hurricanes and hand squeezed Margaritas.
FOOD: BBQ'd Tomales Bay Oysters and a variety of Po' Boy sandwiches will be served with choices of Local Roast Beef Debris, Fried Oyster, Fried Gulf White Prawns or Fried Green Tomato. Seafood Gumbo will also be available with local halibut, crayfish tails and andouille sausage.
This is the third annual Oyster & Fog Festival. We played the first one back in 2008 and are looking forward to rocking Rocker's again!
Rocker Oysterfeller's Kitchen + Saloon
the Valley Ford Hotel
14415 Highway One in Valley Ford
Brandon Guenther, Chef / Owner
(707) 876-1983
brandong@ffrsi.com