"Flashbacks – the Mad Maggies play vintage hits", is now available throughout the digital universe. We invite you to listen, buy and share with everyone you know.
For easy listening and recommending, go to one of these sites:
CDBaby – "the" friendliest, most supportive place for indie artists. They provide nice, long audio previews and an easy to use 5 star rating and comment section, CDs or mp3 downloads.
iTunes – 5 Star rating and comments section, mp3 downloads.
Amazon – convenient customer review and 5 star rating process, mp3 downloads.
DigStation – 5 thumbs up and comment section, individual or album mp3 downloads.
You social networkers got choices:
Subscribe and post on our blog, A Mad, Mad World
Become a fan on our Facebook, MySpace and/or Reverbnation
Follow us on Twitter
Add us to your Rhapsody playlists.
Or simply stay connected via email.
We love you. We're making music for you, our fans and friends. We want to keep you happy and dancing. Let us know how we're doing.
Show us your love. Word of mouth is the lifeline for an indie band like us. Your taking a moment to give us stars or a review or telling someone about us is seriously valuable…essential actually.
Looking forward to your comments! And, of course all those 5 stars and thumbs up 😉
yours in a mad, mad world,
Mags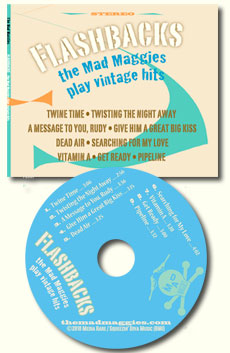 Flashbacks – the Mad Maggies play vintage hits
We dipped into the past for 9 musical gems and gave 'em the inimitable Mad Ms musical touch.
Twine Time — Chicago R&B / Alvin Cash 1965
Twisting the Night Away — dance crave classic / Sam Cooke 1961
A Message to You, Rudy — Ska / Dandy Livingstone 1967
Give Him a Great Big Kiss — Pop / George Morton 1965
Dead Air — a Maggie Martin original 1986
Searching for My Love — Muscle Shoals soul / Bobby Moore & the Rhythm Aces with Chico Jenkins 1966
Vitamin A — instrumental Ska / Baba Brooks 1965
Get Ready — Motown R&B / Smokey Robinson 1965
Pipeline — Surf / The Chanteys 1962
Recorded, mixed and mastered at Wally Sound, Oakland, California.
Analog, 2 inch tape, 16 track. Digital mixdown.