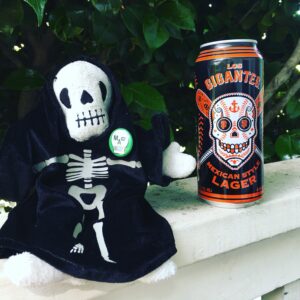 Yo Magpies,
We wish you all the very best on this holiday celebrating life and death.
May you enjoy life to the fullest.
May the memories of your departed be sweet.
To honour our mascot Death and for your delight, I've gathered a few links to check out.
• "La Catrina: The dark history of Day of the Dead's immortal icon" National Geographic looks at the history of the famous female emblem.
• "The Fall of the House of Usher" I highly recommend this wonderfully written and expertly acted 8-part series that mashes up Edgar Allen Poe's psycho-horror short stories. Clever and chilling.
• If Death has a bucket list (is that too paradoxical?), then a visit to this place would certainly be on it. The deadliest garden in the world featuring 100 dangerous, killer plants: The Ainwick Poison Garden.
• One of our very best videos, "Un Jaguar en el Agua", suits the occasion perfectly. Enjoy our musical artistry and the fanciful illustrations of calacas by artist Dale Horstman.
Don't miss Death's appearance at 03:23. 🖤 ☠️