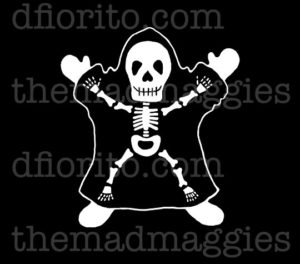 I've been the mascot for this crazy group of musicians ever since Mags found me at the second-hand store in Petaluma, California back around 2008. She recognized immediately that I was more than just a castoff Beanie Baby.
I am an existential question, a philosophical discussion, a dignified and whimsical reflection of mortality.
I am a lovable memento mori*. Very lovable.
Look for me. I am at every Mad Maggies event.
_____ _____ _____ _____ _____
Je suis la mascotte de ce groupe de musiciens fous depuis que Mags m'a trouvé au magasin d'occasion à Petaluma, en Californie, aux alentours de 2008. Elle a tout de suite reconnu que j'étais plus qu'un simple « Beanie Baby ».
Je suis une question existentielle, une discussion philosophique, une réflexion digne et capricieuse de la mortalité.
Je suis un adorable « memento mori ».* Très adorable.
Me chercher. Je suis à chaque événement des Mad Maggies.

* memento mori = remember death (Latin) = Rappelez-vous la mort
• Art History's Spookiest—and Most Misunderstood—Genre