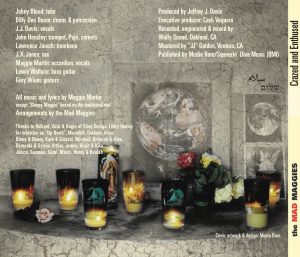 On February 14, 2004, we loaded our gear into Wally Sound in Oakland and began recording our first album, Crazed and Enthused. Yep, it was Valentine's Day.
What started as a one album recording project has turned into 8 albums featuring 50+ original tunes, a handful of traditional tunes and a few select covers. And we're still going!
Many of you have been with us from the very beginning. Thank you! We love you.
In celebration of love and 14 years of music-making, I've cued up "Luna Marie".
We are spinning around in a cold, dark sky. And loving makes that seem okay.
Last year, I put together this short video with photos from that 1st recording session.