Before the Mad Maggies …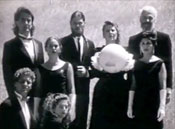 In the late 80s my close friend and colleague, Diana Keener (Where's Diana?) and I formed a mixed media theater company called Mixed Company for which I wrote music, co-directed and performed. We produced several full length shows.
For our second show, "Timepiece" we shot a short film in 16mm black and white called Black & White Ball which features Dutch Belted cows. These wonderful looking animals used to be grazed on the outskirts of Petaluma.
For your viewing enjoyment, here is a transfer from VHS uploaded to YouTube.
Yes, that is our own fellow musician and Accordion Babe cover girl, Roxanne Oliva starring as a temptress. She appears with Arthur Hills as patriarch and adoring father, Diana Keener as a proper wife, John T. Sherman as a wandering husband, Hillel Familant as a young man with potential, Patrice Warrender as contemplative guest, Pat Walp as aspiring gentleman and yours madly as hostess.