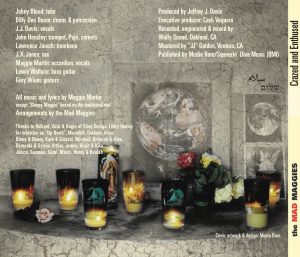 Le 14 février 2004, nous avons chargé notre équipement Wally Sound à Oakland et avons commencé à enregistrer notre premier album, Crazed and Enthused. Oui, c'était la Saint-Valentin.
Ce qui a commencé comme un projet d'enregistrement d'un seul album s'est transformé en 8 albums contenant plus de 50 chansons originales, une poignée de chansons traditionnelles et quelques « covers » sélectionnés. Et nous continuons!
Beaucoup d'entre vous ont été avec nous depuis le début. Je vous remercie! Nous t'aimons.
Pour célébrer l'amour et 14 ans de création musicale, voici "Luna Marie".
We are spinning around in a cold, dark sky. And loving makes that seem okay.
L'année dernière, j'ai réalisé cette courte vidéo avec des photos de cette première session d'enregistrement.