Un enregistrement en direct et sauvage. C'était un de ces moments extraordinaires où des musiciens et la foule ont partagé une unité divine trempée dans la bière. L'énergie était une ombre spectaculaire en vert.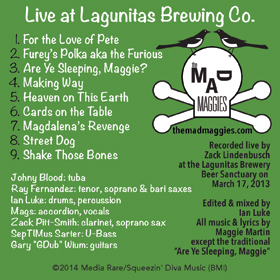 Enregistré en direct par Zack Lindenbusch at the Lagunitas Brewing Co. on March 17, 2013.
Edité et mixé par Ian Luke.
Conception et mise en page Media Rare.
TRACK NOTES
For the Love of Pete — Sally Duggan prend la mer pour sauver le capitaine Pete
Furey's Polka aka the Furious — polka
Making Way — ska, agréable et plein d'entrain
Heaven on This Earth — « en supposant qu'il n'y a pas de maison en haut »
Cards on the Table — cumbiaesque
Magdalena's Revenge — enlevante
Street Dog — une pincée de Louisiane
Shake Those Bones — swing, avec un solo de batterie exceptionnelle
VIDEO
On a utilisé les enregistrements de « Heaven on This Earth » et « Street Dog » de ce spectacle pour les vidéos qu'on crées en 2013.