Notre premier album.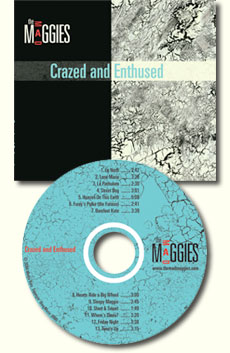 Enregistré et mixé par Wally Sound, Oakland, California. Analogique, 2″ bande, 16 voies.

Masterisé par J. J Golden, Ventura, California.
Conception et mise en page Media Rare.
TRACK NOTES
Up North – polka
Luna Marie – l'amour et le destin dans un ciel froid et sombre (cabaret)
La Pachulera – musiciens klezmer à la frontière
Street Dog – regarez qui s'est presenté un soir de Mardi Gras!
Heaven on this Earth – en supposant qu'il n'y a pas de maison en haut
Furey's Polka – polka
Barefoot Kate – amour en temps de guerre (ballade)
Our Hearts Ride a Big Wheel – rock poétique
Sleepy Maggie – entraînante, l'interprétation urbaine du reel celtique traditionnelle. Utilisé dans le pilote de TV de Black Donnellys sur NBC.
Short and Sweet – sur cette question de taille – un blues très, très court
Where's Diana? – polka de cirque
Friday Night –
danser côte à côte
Time's Up – Où va le temps?
COOL NOTE
Sur TV: «Sleepy Maggie» from « Crazed and Enthused » souligne toute une scène dans le pilote de « The Black Donnellys » qui a été diffusé sur NBC. Autour de la 7m minutes il y a un scène dans un bar où « Sleepy Maggie » joue tout au long de la scène. Paul Haggis (Million Dollar Baby, Crash, Casino Royale) a créé la série. Robert Moresco (Million Dollar Baby, Crash) en est l'auteur. Dix millions de paires d'oreilles nous ont entendus la première nuit où il a été diffusé.
La mélodie est notre interpretation du reel traditionnel.
(NB: Il existe d'autres versions de l'émission en ligne avec une musique différente – quelque chose à voir avec l'octroi de licences. Si vous entendez une mélodie moins graveleux et plus traditionnel, ce n'est pas la notre.)
HONORÉ
« Luna Marie » et «Street Dog» de «Crazed and Enthused» ont été nommés par Just Plain Folks Music Awards 2006 dans les catégories de cabaret et chanson cajun respectivement.