This is a rough and ready recording culled from our live field recordings.
We essentially "bootlegged" ourselves.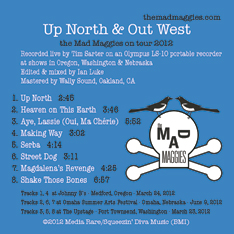 Recorded live by Tim Sarter on an Olympus LS-10 portable recorder at shows in Oregon, Washington and Nebraska.
Edited and mixed by Ian Luke.
Mastered at Wally Sound, Oakland, California.
Cover design and layout by Media Rare.
TRACK NOTES
Up North — polka
Heaven on This Earth — ska or is it R&B?
Aye, Lassie (Oui, Ma Chérie) — a dash of Louisiana
Making Way — ska
Serba — traditional
Street Dog — cajunesque
Magdalena's Revenge — frailich inspired
Shake Those Bones — swing